CAPITALISING ON CONTACTLESS


ISSUE NUMBER:

TT135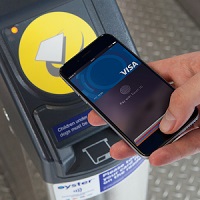 Open your wallet, and the chances are you will find a ticket to travel on public transport around London. Not an old paper ticket or even an Oyster card from your last trip to London, but your contactless bank card. Since 2014, this simple piece of plastic can let you ride on the Tube, hop on a bus or even board a boat along the Thames – even if you have never been to London before.
Since September 2014, anyone wishing to use London's transport system has been able to do so by using a contactless bank card. No need for customers to manage an Oyster card. No need to top up. No need to worry about ticket choices, as all fares are capped on both a daily and Monday-Sunday basis to help guarantee best value.
Following the success of contactless in London, in June TfL entered into a licensing deal with Cubic to use our contactless back office within Cubic's Next Account platform.
The deal is a non-exclusive arrangement and helps to fulfil the new mayor's promise to derive more income from selling TfL's knowhow and expertise. Subject to successful implementation, this is expected to generate up to £15m for TfL, which will be reinvested into our network to help make further improvements.
Full article available in the current issue of Transport Times