ONLY CONNECT


ISSUE NUMBER:

TT134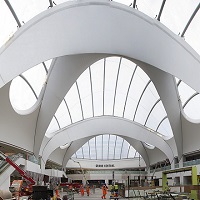 If the North is a Powerhouse, then the Midlands is an Engine for Growth. The East and West Midlands together have embraced the idea of devolution and the opportunity to have greater influence over the region's strategic direction. And the region's equivalent of Transport for the North will be Midlands Connect.
Covering the whole of the East and West Midlands, including 28 transport authorities and 11 local enterprise partnerships, Midlands Connect is working towards statutory status as the body responsible for transport strategy for the region.
Midlands Connect project director Maria Machancoses says strategic road, strategic rail and HS2 will form the focus of Midlands Connect's strategy.
"We want to make sure that strategic decisions reflect more on the needs at Midlands level – to make national priorities more responsive to the needs of the Midlands." But she also stresses the outward-looking nature of the exercise, because although the region is a strong economic entity in its own right, of necessity strategic transport links between the UK's other regions pass through it.
"We need to cater for both, so that £1 spent on Midlands infrastructure is £1 well spent for the North, the South East, and the rest of the country," says Ms Machancoses.
Full article available in the current issue of Transport Times