STRONGER TRANSPORT LINKS WILL SHOW THE UK'S CONFIDENCE


ISSUE NUMBER:

TT135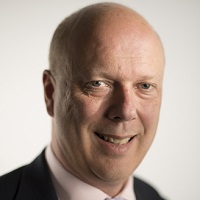 After a summer of historic change for Britain and political change in Westminster, the August recess provided a welcome opportunity to focus on my new job. I spent my first few weeks as Transport Secretary travelling around the country, seeing how transport investment is changing Britain for the better, and meeting many of the leaders and decision-makers who drive this great industry.
It is inspiring to see that the biggest road programme for a generation and the largest rail modernisation plan since the Victorian era are under way. The Government is spending £13bn on northern transport this parliament. We are close to completing Crossrail and Thameslink. And next year we start building HS2.
My first responsibility is to provide continuity, to see these massive projects through to completion as quickly and smoothly as possible. As the prime minister has made clear, we will be a government that brings the country together, and helps everyone in our society to get on. Transport has a unique power to do that – improving the links between people and places, bridging the economic gaps between regions, and spreading the benefits of growth.
Full article available in the current issue of Transport Times