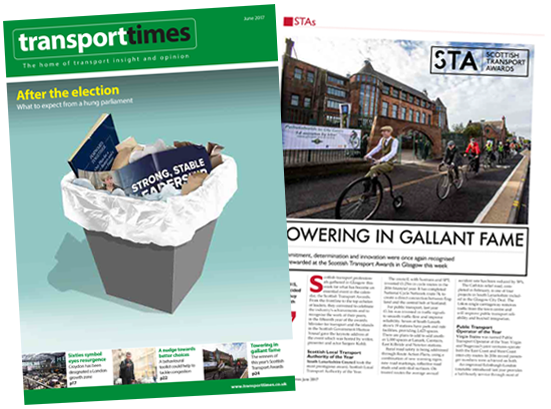 In June's issue:
Election result heralds an end to austerity
What to expect from a hung parliament – TT experts' views
Clean air strategy 'must tackle congestion'
Oxford Bus goes contactless
Dockless bike hire for Manchester and Salford
Transdev and Delphi in autonomous vehicle partnership
Scottish Transport Award winners
Croydon poised for regeneration
HS2 rolling stock design
Enhanced partnerships will need new strategies
A nudge towards better travel choices
Alstom rethinks urban transport
Also in this issue:
EMAIL SIGNUP
Thank you for signing up.
INSPIRING TRANSPORT PROJECTS REWARDED AT NATIONAL TRANSPORT AWARDS CEREMONY
---
13 October 2017
The people making a real difference to transport across the UK were recognised at the prestigious National Transport Awards at the Westminster Park Plaza in London last night. Hosted by....
Trans-Pennine Realities
---
9 October 2017
When Secretary of State Chris Grayling spoke in Manchester on September 22nd of the need to consider Digital Railway technologies in the north as well as the south of the....
Improving public transport access to London's airports
---
4 October 2017
In a growing and congested city, and to make best use of aviation capacity, it is really important that passengers can easily access airports by public transport.
However, our research has....