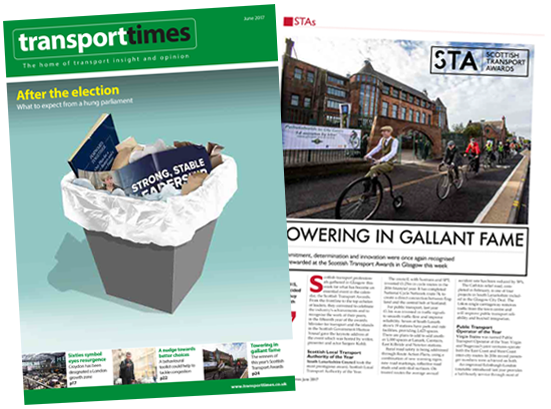 In this issue:
Election result heralds an end to austerity
What to expect from a hung parliament – TT experts' views
Clean air strategy 'must tackle congestion'
Oxford Bus goes contactless
Dockless bike hire for Manchester and Salford
Transdev and Delphi in autonomous vehicle partnership
Scottish Transport Award winners
Croydon poised for regeneration
HS2 rolling stock design
Enhanced partnerships will need new strategies
A nudge towards better travel choices
Alstom rethinks urban transport
Also in this issue:
EMAIL SIGNUP
Thank you for signing up.
National Transport Awards Shortlist Announced
---
21 July 2017
The Shortlist for the 2017 National Transport Awards has been announced.
We are delighted to say that we have received over 330 entries for this year's awards from right across the....
Pricing for Prosperity
---
21 July 2017
It is over 200 years since road pricing was first suggested but there are only three significant schemes in operation: London, Singapore & Stockholm. All are ongoing and popular, even....
A Heathrow that meets its targets
---
18 July 2017
At last an agreement has been reached that will allow Elizabeth line (Crossrail) services to reach Heathrow's Terminal 5 from December 2019. The agreement the airport has reached with DfT....