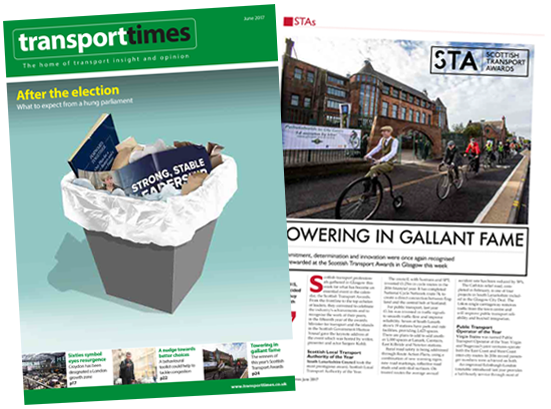 In this issue:
Election result heralds an end to austerity
What to expect from a hung parliament – TT experts' views
Clean air strategy 'must tackle congestion'
Oxford Bus goes contactless
Dockless bike hire for Manchester and Salford
Transdev and Delphi in autonomous vehicle partnership
Scottish Transport Award winners
Croydon poised for regeneration
HS2 rolling stock design
Enhanced partnerships will need new strategies
A nudge towards better travel choices
Alstom rethinks urban transport
Also in this issue:
EMAIL SIGNUP
Thank you for signing up.
Reaction to Transport in Queen's Speech
---
22 June 2017
Industry figures comment transport within the Queen's Speech 
....
"MAYOR'S TRANSPORT STRATEGY A BREATH OF FRESH AIR"
---
21 June 2017
The Mayor's Transport strategy is a breath of fresh air-and not just in a metaphorical way. It is visionary and robust. It gets the balance right between enticing Londoners to....
Congestion is not just a drag on the economy: it kills.
---
19 June 2017
The Government's new plan sidesteps charging in clean air zones and, by focusing on emissions per vehicle rather than per passenger, proposes targeting vehicles in reverse order of the pollution....