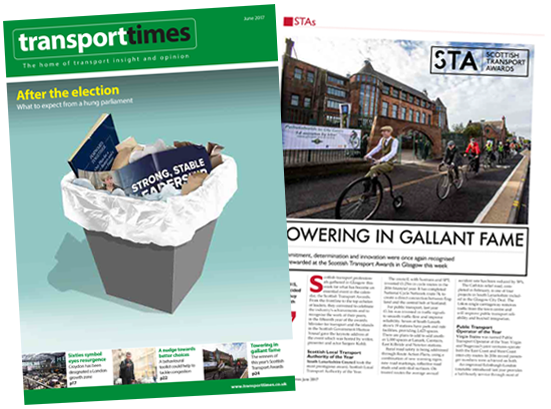 In June's issue:
Election result heralds an end to austerity
What to expect from a hung parliament – TT experts' views
Clean air strategy 'must tackle congestion'
Oxford Bus goes contactless
Dockless bike hire for Manchester and Salford
Transdev and Delphi in autonomous vehicle partnership
Scottish Transport Award winners
Croydon poised for regeneration
HS2 rolling stock design
Enhanced partnerships will need new strategies
A nudge towards better travel choices
Alstom rethinks urban transport
Also in this issue:
EMAIL SIGNUP
Thank you for signing up.
Should cars get special treatment when buses are driving a cleaner future?
---
19 January 2018
UK BUS SUMMIT 2018 | 8TH FEBRUARY | LONDON
Claire Haigh will be speaking at the event next month, in a session on the role of the bus in reducing emissions.....
Heathrow plans to take-off?
---
16 January 2018
Starting the New Year with a bang, Heathrow are set to kick-off a public consultation on plans for its expansion. Supporters and opponents will be watching carefully. The battle is....
Making fares fair again
---
15 January 2018
Understandably, most rail sector people are anxious about the consequences of major re-organisation under a Labour Government committed to a "fully integrated railway in public ownership".
But the party's rail policy....