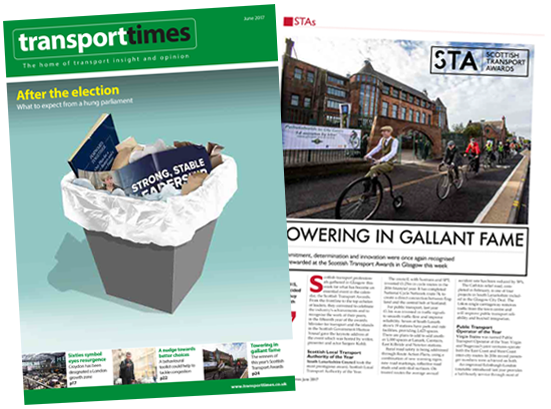 In June's issue:
Election result heralds an end to austerity
What to expect from a hung parliament – TT experts' views
Clean air strategy 'must tackle congestion'
Oxford Bus goes contactless
Dockless bike hire for Manchester and Salford
Transdev and Delphi in autonomous vehicle partnership
Scottish Transport Award winners
Croydon poised for regeneration
HS2 rolling stock design
Enhanced partnerships will need new strategies
A nudge towards better travel choices
Alstom rethinks urban transport
Also in this issue:
EMAIL SIGNUP
Thank you for signing up.
Transport Investment under Uncertainty
---
15 December 2017
The world is on the cusp of a transport and societal revolution which, over the next 10 to 15 years, "will drive change on the scale of the Industrial Revolution".
Secretary of State acts to shore-up Franchise Model with hints of deeper reform to come
---
13 December 2017
The successes of Britain's rail franchising system are well established. A doubling of passenger numbers since privatisation, steady increases in punctuality and passenger satisfaction between 2001 and 2013 and a....
Getting to the Root Causes of Road Crashes
---
11 December 2017
The news that yet another person has died in a road crash makes for grim but depressingly-frequent reading in the press.
We are reassured that our national road safety record stands....