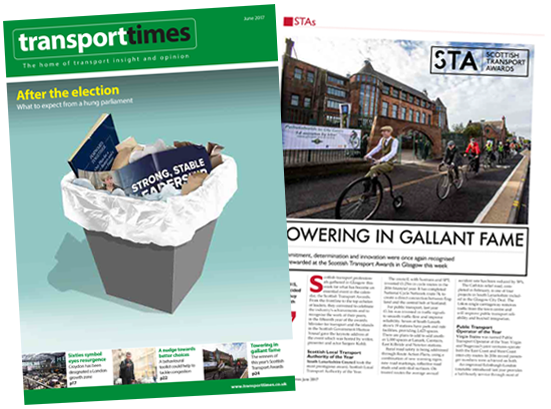 In June's issue:
Election result heralds an end to austerity
What to expect from a hung parliament – TT experts' views
Clean air strategy 'must tackle congestion'
Oxford Bus goes contactless
Dockless bike hire for Manchester and Salford
Transdev and Delphi in autonomous vehicle partnership
Scottish Transport Award winners
Croydon poised for regeneration
HS2 rolling stock design
Enhanced partnerships will need new strategies
A nudge towards better travel choices
Alstom rethinks urban transport
Also in this issue:
EMAIL SIGNUP
Thank you for signing up.
What Brexit Can Learn from Transport
---
20 November 2017
'Brand UK' is characterised internationally as representing a stable open trading nation, but in a fast-changing world the role of nation states is changing. Transport is perhaps the most tribal....
Why the Euro VI bus is essential to the success of Clean Air Zones
---
17 November 2017
Prior to carrying out research on vehicle emissions earlier this year I subscribed to the view that all diesel vehicles should be banned from Clean Air Zones. I now see....
Liverpool City Region Bus Alliance: 12 months on
---
16 November 2017
In Merseyside we've just celebrated 12 months of the Liverpool City Region Bus Alliance – a formal partnership between Merseytravel, Arriva and Stagecoach, who together make up around 80 per....