A ROAD NETWORK FOR THE WHOLE ECONOMY


ISSUE NUMBER:

TT133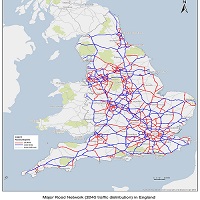 David Quarmby and Phil Carey
Highways England is a year old and is focusing on putting into practice the first five-year road investment strategy. Doubling expenditure by 2020 on the strategic road network of motorways and trunk roads is a cornerstone of the Government's ambitious infrastructure programme.
But is concentrating on the 4,400 mile strategic network enough? Its coverage varies between different parts of the country and between conurbations; it doesn't always provide sufficient connectivity for users across the regions or to meet new patterns of movement. It's left to a series of major cross-country local authority roads to meet these needs.
In a project commissioned by the Rees Jeffreys Road Fund, we set out to define a fuller set of economically important roads – strategic and local – that make up a coherent network. Taking account of traffic levels, the proportion of commercial transport, and connectivity for all towns above 50,000 population, we add 3,600 miles of the more "strategic" local authority A-roads, creating a Major Road Network of 8,000 miles. The result is a balanced and integrated network that underpins national and regional economies.